By Rumyana Vakarelska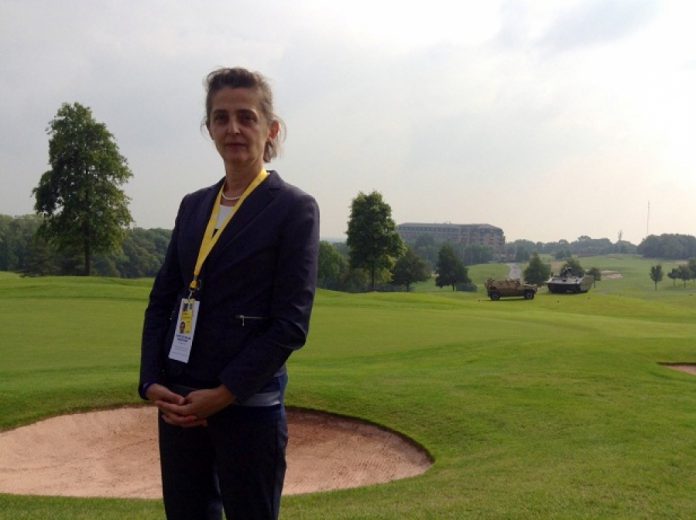 At the NATO's Wales Summit, attended by 28 member countries, as well as partner states and the delegations of the EU and the Council of Europe, one thing was clear: NATO has entered one of the defining moments in its history. Once again it established its relevance on the international arena, with a clear and necessary short-term plan, while defining its role as a peacekeeping force in the long run.
'We have taken historic decisions to improve our military capabilities and improved our incorporation departments", said NATO Secretary General (SG) Anders Fogh Rasmussen (pictured).
"Russia's illegal annexation of Ukraine and the new wave of extremism in the Middle East and Africa effect directly NATO members to the East and South of Europe, so a new pledge of investment by member countries in their military capabilities has been made, so members' defence expenditure reaches 2 pc of GDP within 10 years', Rasmussen said.
Although this new budgetary agreement among NATO members is political and not legal, it clearly demonstrates the strong commitment of the PMs of 28 members. Moreover, most decisions at the Summit were based on the recognition of NATOs famous Article 5, which declares the 'one for all and all for one principle' if any member country is ever endangered. This was repeatedly emphasised by Rasmussen, UK PM David Cameron and especially by US President of Barack Obama, who all attended the Summit.
'Over the last decade Russia has increased its military expenditure by 50 pc, while NATO went down by 20 pc down, so at this Summit we have turned a corner, as our security is key to our prosperity', Rasmussen said.
All NATO members have agreed to step up their defence budgets as currently only the US, UK, Greece and Estonia have matched commitments to spend 2 pc of their national defence budgets. The UK leads the EU in military expenditure and will play a leading role in the deployment of the new Joint Expeditionary Force (JEF), whose creation was agreed at the Summit.
Bulgaria is one of many NATO countries that have to reach the two pc target over a decade, while Britain has inherited from New Labour a hefty military budget worth above 2 pc of UK's GDP. This amount is now being adjusted to 1,8 pc in the next budget, according to data from the UK's RUSI think tank, while the UK PM Cameroon has yet to confirm the new figure.
All the NATO countries also committed to stop any further decline in their military budgets with immediate effect, while committing to gradual increases that have to be approved by national parliaments for years to come.
The complex international political and defence situation in Europe, the Middle East and Africa provoked a high level of integrity at the summit, leading to a common response to media questions if EU and NATO have responded too late to the crisis in Ukraine.
'The answer to the Ukrainian crisis is only political, it has never been possible to be anything else', said Rasmussen. During the Summit, this view was strongly supported in public statements by Cameron and Obama, as well as the rest of the country leaders.
"Meanwhile, NATO prepares for the future, as we have elected at the Summit Gens Stoltenberg, the current prime Minister of Norway, as the new Secretary General from October 1," said Rasmussen.
The solidarity among NATO members was clearly demonstrated in the first day of the Summit, when France reversed an earlier decision to send two military ships ordered by Russia, despite the financial loss it needs to face, while UK's biggest ever military ship, HMS Duncan, was inaugurated and is going to serve as part of the newly created NATO Joint Expeditionary Force (JEF), to which the UK will contribute 1000 troops from 2015. The force is ready to react immediately if necessary, but will be complete as planned at the Summit by 2018. Meanwhile, air force patrols will fly over the Baltics and the Black Sea, while major military exercises are expected to take place throughout Europe next year, focused largely on South Europe, as several Eastern European NATO members have asked for support.
However, NATO's collective decisions on immediate ways to support Ukraine financially and militarily, fight Islamic State (IS) terrorists in the Middle East and launch the JEF, while also withdrawing from Afghanistan and collaborating with Iraq's government for the region's fragile stability, best describe NATO's immediate plans and responsibilities, many of them using the UK's top operational and military capabilities.
Rasmussen on 5 September was cautions about that day's ceasefire between Ukraine and Russia, led by a 12 point protocol that may lead to a practical date for an agreement with Russia. In the document, Ukraine has committed to release hostages, decentralise power, keep the right of use of any languages, and an amnesty for people that may have been otherwise prosecuted. The attempt for ceasefire ended 30 hours after, but was a start in the right direction.
"It is unacceptable what happened," Poroshenko said. "I expect peace now."
Autonomy and decentralisation is a good way to resolve the situation, observers said, but Russia is alienated, and trust is broken between the West and Putin. In the week of the Summit, a meeting of the Parliamentary Assembly of NATO countries took place in the UK, as well, confirming that Russia has been excluded, not just suspended, from the organisation, pushing Putin in a further international isolation.
US President Obama has said that USD 1 billion has been committed in support to Ukraine in the spring and the country will receive any support that the current situation requires. At the Summit, a further discussion on new NATO members such as Moldova, Jordan and Georgia has taken place, giving another perspective to NATO's future.
"Our collective security is as strong as it has been", said David Cameron. "The new JEF can be deployed in 2-5 days in any country in the world. Any NATO member will hold any budgetary decline in defence and will move it up, and 1/5 of all NATO members' defence budgets will be spent on equipment, while the UK's defence budget is currently the highest in three decades", he said.
However, as fighting continued after the deadline at 4 pm UK time on 5th of September, Russian mothers have started asking why their sons are dying, so pressure for a ceasefire in Russia may help this fragile protocol. Meanwhile, NATO estimates that at least 1000 Russian troops are based on Ukrainian territory, so even if Russia changes course, it will take time to fully reverse policy and actions in the battle field. Talking about ceasefire with Russia remains tricky as the country did not match its agreement with Georgia, agreed close observers of the situation at the Summit.
The lesson for CEE countries that may have had in the past close links with Russia or even share a language or an alphabet, as is the case with Bulgaria, have to recognise that the values of their societies today and the ones that defined the last 25 years, have to dominate any further understanding of the crisis in Ukraine, support NATO's new commitments and not gaze into the past. Copyright© Rumyana Vakarelska
'Budilnik' s newspaper new English Language Page contains original journalistic content in print and online on key developments in Bulgaria and Britain and on UK's ex-pat life, aiming to build a higher and well-informed mutual awareness of the two countries and the viable prospects ahead of both. It will include exclusive articles, interviews and pictures about business, investment, work life, politics, culture and identity, which are of specific interest to the Bulgarian community in the UK and across the world, also known as 'the Other Bulgaria'. Interested sponsors for this page, please contact contributing editor Rumyana Vakarelska (FT Group, London Press Service, WSJE, the Guardian among a few), Team New Europe, an editorial and public affairs consultancy in London by email: rumy.vakarelska@gmail.com